"Search within a site" and the mixed reactions to Google's experiment!
Recently, Google decided to do some more experimenting with the search results pages and started serving a new set of search boxes, below the first organic listing, which allows users to refine their search further before going to your website.
I know I've already witnessed some very heated debates between Google and website owners, worried about losing valuable traffic and page views to their sites. Rightly so, Google's experiments quite often cause website owners sleepless nights, their "tweaking" can mean a 50% drop in traffic overnight. Bigger brands, this could mean an even larger drop in traffic when the majority of their current traffic, comes from simple, brand based searches, simply because, they have spent years building that brand.
What if your homepage, is the page you WAN'T surfers to land on, regardless of their query?
If the content on a specific page is already highly relevant to the users query, shouldn't that page be served up instead of the search within a site box?
Google's position with this experiment is an interesting one, they claim they are trying to deliver users, directly to the most relevant page within any given website by allowing users to further refine their search, while still on Google and then clicking through, only when they find the organic listing they desire.
I give Google credit, for transactional based searches, where a user is searching for a specific product, I can really see the advantage to a system like this, delivering users directly to the most relevant page possible, but for broad, brand based searches, I think this is getting a little cheeky.
For those of you who don't know what "search within a site" is, click on the thumbnail to see a preview image or preview HSBC results in Google here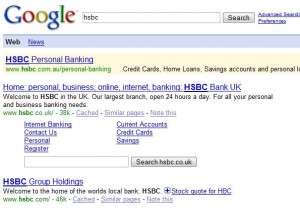 Ok, now for the most contentious part of Google's search within a site. Normally, advertisers can choose to block their competitors from buying their brand terms, if they have a registered trademark, so with my example above, say you are HSBC and you have blocked competitors from triggering ads on your famous trademark. Great, so you now own the space, paid and organic, when a user searches for your brand.
What happens next is the topic of most of the debate around search within a site, when you do choose to refine your search, using the search within a site box, Google all of a sudden decides that triggering ads, while searching within your site is fine and will display competitor's ads prominently both above and beside your organic results. (Click on the thumbnail for a larger picture)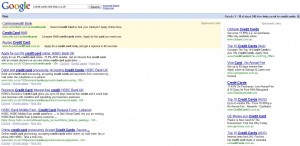 Is Google going too far with this? Or is this just simply allowing users to compare your search results with those of your competitors? – Studies have shown, that people have a built in need to compare between at least 3 major brands that they expect to see when they search. (Gord Hotchkiss has done some interesting research on this)
An example would be searching for rack servers, consumers would expect to find Dell, HP and Sun for instance, if the users only found the one brand, dominating all the top organic and paid positions, they aren't as likely to purchase the product or to feel secure in their decision. I won't go into depth about this in this article, but it is one thing to keep in mind.
In my opinion, search within a site is just another way that Google is trying to improve their users experience, helping them to reach the most relevant content, with the least hassle, however, Google are stepping on some toes with this one and if it rolls out and becomes more than an experiment, you can be sure that there will be plenty more people complaining about the feature.
For those of you who are worried about what search within a site is doing to your traffic, there is some hope, Google will listen to your requests to have this feature removed (at least they do if you are a big PPC advertiser), so contact your local Google rep and ask whether they can remove it, before you go and get too excited!
In the meantime, Loveclients will as always keep our clients (and everybody else via the blog) if our research gives any definitive answers.
Tags: brand ownership, brand terms, comparative search, competitors, deep linking, google's experiments, Organic Search, Paid Search, search engine optimization, search refinement, search within a site, trademark infringement, trademark terms
Leave a Reply