Universal Search Optimization – Better Organic Rankings
Google is in the middle of a very quiet revolution, changing the search results right before your very eyes, introducing a new type of search which has been dubbed "universal search" by most, others call it blended search. Whatever you call it, its changing the way that SEO professionals optimize website content.
Universal search brings together components of web, book, blog, video, news and many more different types of search onto the one results page, all blended seamlessly so that the average Joe doesn't know the difference between one or the other, they simply get results tailored to their search query from various different sources.
The interesting question facing marketers, is how to take advantage of these new elements, which feature prominently within SERPS? Do you focus your time on optimizing video content, tagging images, writing a blog, publishing ebooks?!?
Need an example of universal search? Try searching Google.com for "los angeles bars" and this is what you will see:
Universal Search Example: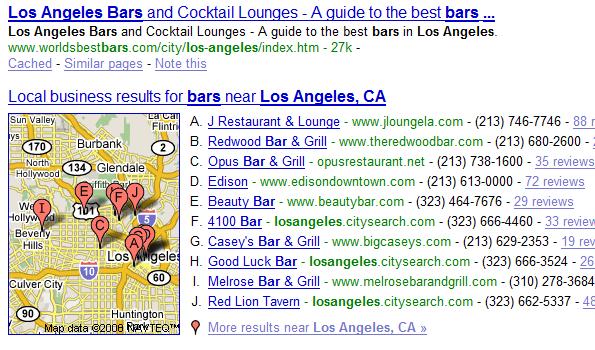 Ok, so we now know what universal search optimization can cover, basically any kind of web content so here is my guide to help priotize your online content efforts, in order of easiest to hardest.
Tagging your images: This is a no brainer and one of the easiest ways to start to get some additional traffic from the search engines. Tagging all images contained on your website with the correct alt text and description fields, gives you the opportunity to basically show a banner ad at the very top of a search result, if Google deems your image to be highly relevant.
Optimizing video content: Make your video useful or informational (Don't waste users time), tag your video with popular terms which relate to the content, keep the video short and to the point, put your logo on the video and always ensure that you name your video so that it is relevant to the content and the keywords associated with it. Another great tip is to always include your videos in a "video sitemap" so that the search engines can find it all and finally use html to describe the contents of your video because search engines still love HTML best!
News content: If Google or Yahoo or any other news aggregators, truly think your site is newsworthy, they will generally add you to their index on their own, however for the majority of us it's a matter of writing content, building up a reasonable level of quality and then submitting for approval. Once approved, news based search results can deliver lots of relevant traffic and the same old rules apply, write good quality, keyword rich, feature articles and make them worthwhile for users to read.
Local search: Getting listed within local search results can be as simple as adding your website to the local business ads section index within your adwords account, the reason that i put this as #4 was because you generally have to pay for the listing on a per click basis. However Google will also give you that one, free, map based link if you claim ownership of your business address, via a verification process. Click here for more information on Local business ads
Book search: Now this is a tougher one, simply because you have to take the time to write a book! It's not as easy as it sounds but if you have the time, write a book on something you are truly passionate about, something you have a strong opinion on and then publish it as a PDF. Do your research and find popular phrases, using tools like wordtracker or keyword elite and featuring these phrases heavily within your original content. Once you have written your book, published it, it looks all pretty. Register it for a Google book ID and you are done, if people are searching for phrases which are highly relevant to your publication, there is a good change your book will be shown.
If you currently use a third party search agency to optimize your website, make sure you ask them what they are doing for your universal optimization, be proactive and findout their guidelines and strategies and ask questions about where they think the future is heading and get in before your competition does.
Those tips above are useful, but the most important thing to remember when optimizing your search marketing, is to try and deliver unique, meaningful content to users. Google and Yahoo both love to deliver the freshest, most useful webpage's to their users, so if you write it (and optimize it properly) they will come.
Tags: adwords, best practice, blog search, book search, cpc, future of search, google, LBA, local business ads, local search, news search, Organic Search, quality content, SEO, seo agency, seo professionals, universal search optimization, video search, yahoo
Leave a Reply