Getting Started with Adwords – Part 1
Todays post is the first in a new series of educational, step by step guides which will help those just starting off with search marketing on Google to hit the ground running. I will throw a few extra steps into the process and give advice based on what you should be doing to start with a more optimised campaign, instead of a campaign which will get you a lot of irrelevant clicks and blow your budget like most adwords starter campaigns!
This guide is obviously aimed at those who are just getting search marketing running on their website. More advanced optimisation and development articles will follow.
Step 1) You need to load up http://adwords.google.com this is the homepage of the worlds biggest and most talked about online advertising program Google Adwords. You will see up the very top of the screen a link which says "Click to begin", go ahead and click on that which will take you to step 2.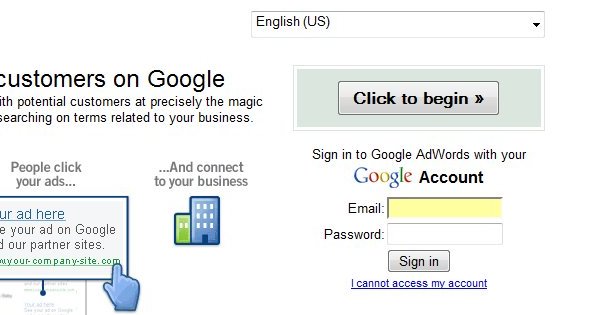 Step 2) Once you have decided to start the signup process, Google is going to ask you to choose Starter Edition or Standard Edition. Now, if i were starting a new campaign i would choose the Standard Edition however, lets go through the process of using the starter edition as there are a few different steps involved.
Click on the starter edition radio box and also on "i have a webpage" then click continue. (If you don't have a webpage, we will be developing a simple how to guide shortly to suit your needs)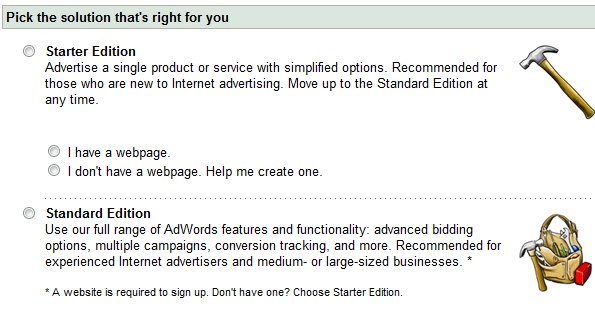 Step 3) The next thing Google is going to do is pop-up a little sub window which will ask for additional details. Let's ignore that and get on with the signup process, so click continue without entering the additional information.
This next page is where you enter all of your target information such as location, language, keywords and other factors which will help to refine your advertising and ensure that you aren't just throwing money away.
Step 4) So let's choose our location and language, if your business is a local and geographically specific business such as a bakery or a doctor, this is probably the most important step. Make sure that you choose a specific region or at the very least your state. If your business is a countrywide or global, online business, then i would suggest choosing some of the major countries such as the USA, Canada, UK.
To start off with, lets simply choose the USA.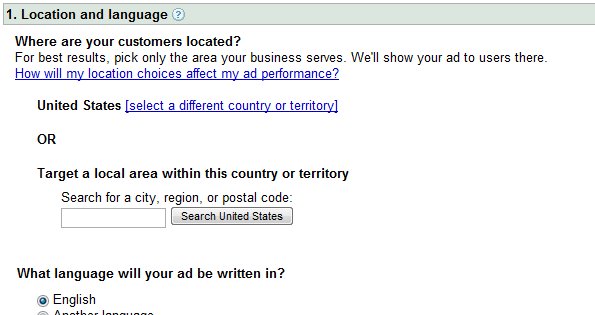 Step 5)Next, Google is going to ask us to write your very first ad! First, let's enter your URL. The important thing to remember here is that this won't always be your homepage. You should be delivering users directly to the most information rich, sales driven page on your website. So think to yourself "What is the page which would best sell and explain my product or service?" then enter that page in.
Next, we need to write your ad. The most important thing is to remember that there is very limited space with only 35 characters in the headline and 70 characters worth of description text. So each ad has to be to the point and if possible, feature part or all of the keyword you are targeting. There is no one, trusted way to write a text ad but i will give a few quick tips.
Step 5A) – Headline The headline is the most important part of your ad, this is the part of your ad that gets noticed more than anything else. Your headline should be to the point and feature at least one of your major keywords. Ideally you would write a variation of your ad for each major group of keywords so that they are all closely matched. To begin with, we are only writing one ad so lets create an example.
Let's say you are a doctor in Boston and you offer services only within the Boston region. For this kind of account i would write a headline like: Experienced Boston Doctor or Local Boston Doctor You basically want to try and sum up the service you are offering within that small 35 character space.
Step 5B) Ok, now for the description this is where you can start to be more creative and try to differentiate yourself from other competing advertisers. I recommend going to Google and searching for a keyword like Boston Doctors for the sake of this example, look at what your competitors are using and then try to improve on it!
Try your best to include any points of difference between yourself and your competitors. An example descriptions for this kind of ad are: "Serving the Boston Community for 15 Years. Trusted and Professional", Basically i think since its a medical industry ad, trusted, safe, reliable are all words which should be focused on.
Step 5C) Display URL, this is the domain name of your site which if you are lucky, will be highly relevant to your market. However one important thing to remember is that you can add a folder name onto the end of your display URL without it existing on your website. This extra bit of advertising space can be a great way of fitting in an extra keyword and making your ad more relevant.
For the example of a Boston doctor, your display URL might look something like this BostonDoctors.com/Advice or BostonDoctors.com/HouseCall – Take advantage of this as your competitors will most likely be. Anytime a user searches for a keyword, if that keyword is within your ad it will highlight in bold!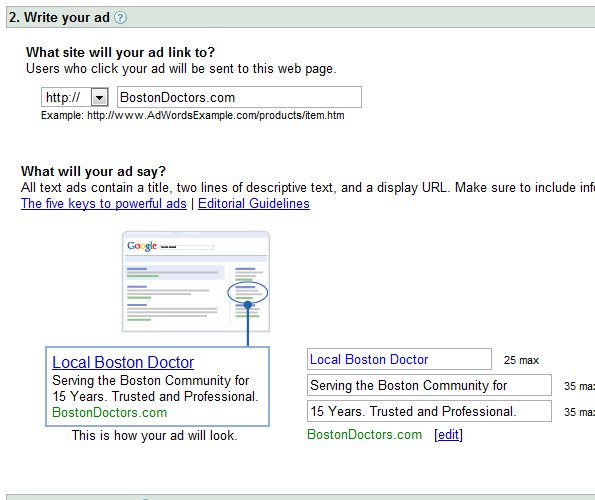 So that i don't overload you with all of these things, i am going to leave part one of getting started with Adwords for today and continue on tomorrow. We will get more in depth into keyword research both using the Google tool and other resources.
Come back tomorrow for part 2 in this new series.
Tags: Advertising Copy, adwords, Adwords Education, Developing Campaigns, Display URL, Education, Geo Targeting, Get Listed on Google, How to Advertise on Google, Search Engine Marketing, Search School, Small Business Advice, Small Business Search Marketing, Writing Search Ads
Leave a Reply