Seasonality and Search Campaigns
Lots of clients love running seasonal campaigns and "burst campaigns" which will run for short periods and ultimately have no positive benefit to the overall marketing objective. There are however exceptions and with the recent buzz around the Olympics, i thought it would be a good time to put some thoughts down on how these kinds of events can be more effectively leveraged.
A quick snapshot of the olympic related traffic spikes over time. (Click for a full sized image)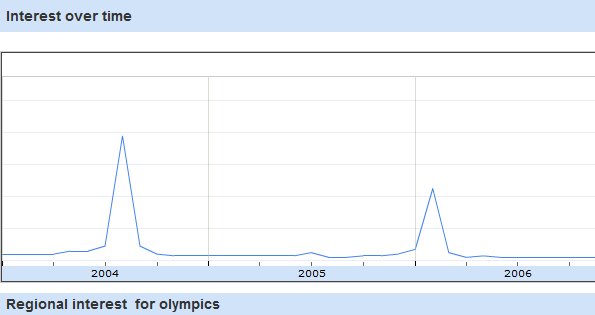 Get in early & plan ahead – One of the most important things is to plan ahead when developing seasonal search campaigns, having a calendar of events which are relevant to your marketing goals and developing keywords, creative and tactics well in advance of each event. I recommend uploading search campaigns and activating at least a month in advance of the traffic spike, which ultimately occurs during the event.
Relevance – This is the most important factor to consider when developing an event based strategy for your marketing, remember that your site has to be highly relevant to the keywords you choose and if users get to the site and find nothing of interest, or the context in which they are searching doesn't match what you offer. You are throwing money away!
Budgeting – Allow for much larger budgets during event heavy months than during those with less activity. This way you get the maximum advantage from months with lower CPC levels and higher traffic volumes, some events will drive tens of thousands of clicks per day for a much lower CPC than average. Once again, setup a calendar and skew each months budget based on potential search traffic.
Competition – With many of the events which happen throughout the year there will be little or no competition to your ads. This means cheaper clicks, better click through rates and better quality scores. Remember, they don't need to be massive worldwide events in order to cause traffic spikes. Festivals, Music Acts, Elections, News Stories and many other elements will cause a quick change in search behavior. Taking advantage of this and being first to market can deliver a significant advantage.
Track and analyze – As with all search campaigns, make sure that sufficient tracking is in place and analyze the data thoroughly in order to tell the true effectiveness of each campaign. Most of our clients find that after the first year worth of events, they have a solid list of events which deliver the most value and then run campaigns around those core events.
As always, Optimise creative constantly and make sure that when initially uploaded, develop at least three different versions and set your campaigns to rotate evenly, so that you can determine the best performing executions and then expand out upon that version, then start again with another three variations based on the winner.
Tags: Ad Optimisation, Budgeting, Campaign Effectiveness, Competitive Advantage, Event Based Campaigns, Lowering CPC, Search Campaigns, Search Seasonality, Search Strategy, Seasonal Campaigns, Skewing Budgets, Split Testing, Traffic Spikes, Yearly Search Strategy
Leave a Reply