Getting Started with Adwords – Part 2
Yesterday we went through getting started with adwords part 1, so if you read that and it all made sense. Good stuff, if not, there may be a thing or two in here for you anyway, i do recommend going back to part one however if you haven't read it yet.
We have chosen our language, written a simple text ad and explained a few little reasons why we do what we do. Now it's time to develop some keywords and finish off the account setup process.
Step 6) As you can see in the screencap below, Google gives a very simplified version of its keyword tool when you are going through your first campaign setup.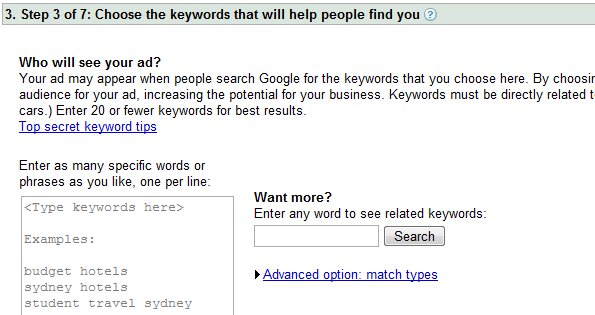 Any keywords you do get from this particular tool, aren't really going to give you any insight into why you should be using them, other than a quick relevance check when you browse over them. So, instead of using this tool i'm going to ask you to load up the Google Keyword Tool Basically, this is using the same back end technology as the above tool, however its giving far more meaning to any keywords that you do choose.
The first thing you should do when you come to the keyword tool page is choose the specific country you want data for. If you are reading this guide, i will assume its campaign number one so stick to just one country for the time being. Select that country and then enter some descriptive terms about your website and business. For the sake of this example, lets keep going with the boston doctor theme.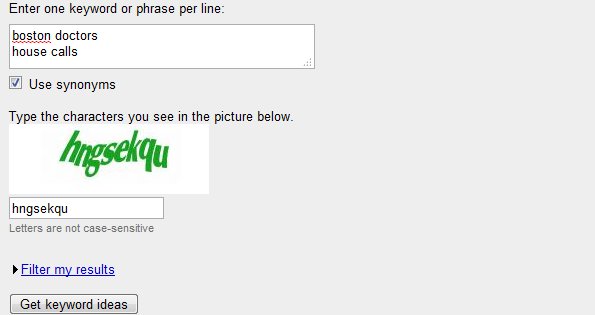 Once you have entered the CAPTCHA code, you are going to be presented with a window which looks like this: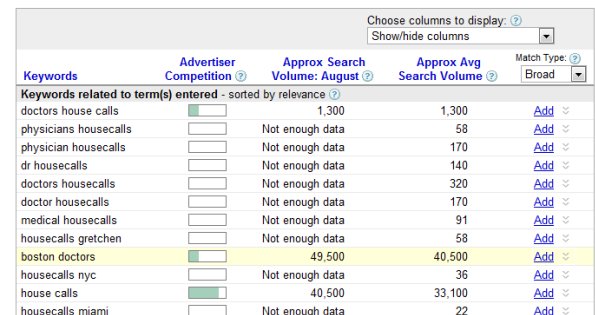 You may look at this and go "so what does this do for me?" but to understand the importance of this you need to understand the way it used to be. Basically, until a few months ago, you had to go and buy third party software which would quite often cost many hundreds or thousands of dollars, just to try and attach any meaningful figures onto your keyword research. Then Google released the current incarnation of this tool with accurate, country level keyword volumes and keyword research completely changed overnight.
Ok, enough of a rant there. Basically, what this is telling us is that as expected, the keyword Boston Doctors gets a good volume of searches and actually has relatively low competition. Which is fantastic as it means you are competing against fewer competitors and will ultimately pay less for clicks!
Next, i recommend scrolling down the list and picking out keywords which the tool is suggesting that are highly relevant to the specific business you are trying to advertise and you can do this one of two ways. Go through them one by one and click add on the right hand column, then download the list when you finish. Or you can go right ahead and download the entire list, then sort through the keywords in excel (I would recommend the second option)
One last thing i will point out with this tool, is to make sure that you scroll down the list a fair way and then go to the section that says "additional keywords to consider" this section is going to be filled with keywords that Google things are logically related to the terms you entered in the previous step.
The last thing you then need to do is take all of the keywords you chose and enter them into the text box on the Adwords page (Step 3 of 7)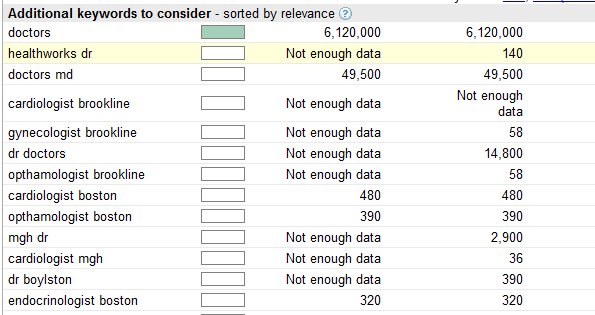 Only select keywords which are highly relevant to the ad which you wrote earlier, remember that the ad must match the keywords you use to trigger it and also match the page you are delivering users to. So stay away from adding in keywords like doctors for the moment as they will eat up your budget.
Step 7) – The final few choices i will roll into one step as they are pretty self explanatory. You need to choose your currency, so for this example USD will do fine. Next Adwords is asking you to set a monthly budget, so go and calculate what you are willing to spend on search marketing and then enter about HALF of that figure into this field. The reason i say this is because you are still learning, no optimisation has been done and for all intensive purposes you may waste that whole amount with very few results. I also recommend that once you have setup your campaign you go in and set a daily budget which further restricts your spending (We will show that in another post)
Leave the last two check boxed ticked and then press continue.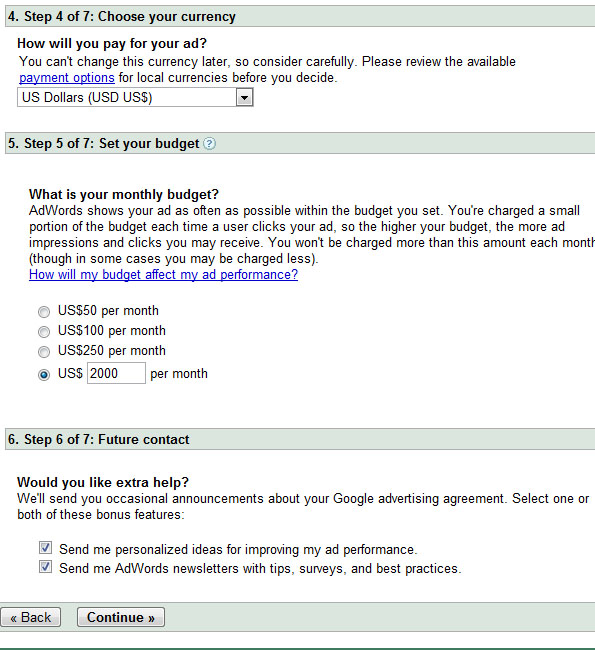 Ok, you will finally come to a screen which is going to ask whether you already have a Google account. I will assume that you don't, so click the button which says "I do not use these other services" and you will then have the chance, to enter your email address and choose a password.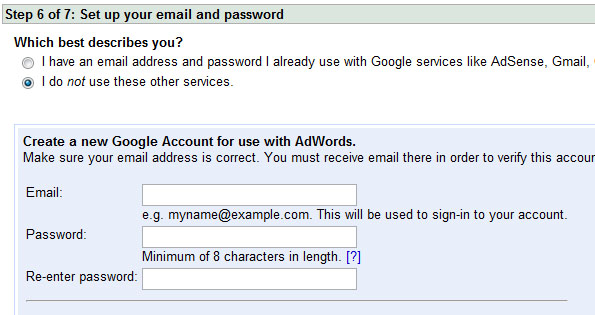 Click on "create account" and viola, you are done. You now have an adwords account, have written an ad and have chosen relevant keywords based on volumes and relevance.
Our next educational step by step guide will focus on what to do after you have created your account and how to understand whether or not you are getting any real value out of your campaign. So stay tuned early next week for that one.
Tags: Advertising Copy, adwords, Adwords Education, Beginners Guide, Developing Campaigns, Display URL, Education, Get Listed on Google, How to Advertise on Google, Keyword Research, My First Search Campaign, Search Engine Marketing, Search School, Small Business Advice, Small Business Search Marketing, Writing Search Ads
Leave a Reply