What do "Tom Brady Injury" & "NFL Guru" have in common?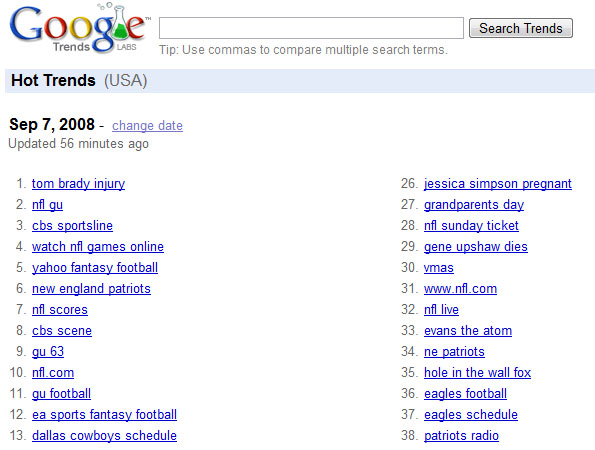 They are the two hottest trends on Google Trends in the USA at the moment!
So now i hear you asking, what's the point in the post?.. Well, i guess i just wanted to highlight how search usage tends to differ so greatly on a weekend compared to midweek. Especially in the U.S, weekends are completely dominated by topical, sports related searches. It's almost hard to find a non-sport related search within Google Trends on a weekend.
The top 10, hottest searches at the moment are:
1. tom brady injury
2. nfl gu
3. cbs sportsline
4. watch nfl games online
5. yahoo fantasy football
6. new england patriots
7. nfl scores
8. cbs scene
9. gu 63
10. nfl.com
Anyways, will keep this post nice and short. Just wanted to highlight the need for different thinking on weekends when compared to midweek. Keep an eye on the trends and if you have a campaign which can take advantage of one of the fast rising terms, chances are you will pay much less for clicks and will beat out the competition.
It's safe to say, that Americans still love their football!

Stats are from Google Trends
Tags: Competitive Advantage, Google Trends, NFL Searches, Search Insights, Search Spike, Search Strategy, Search Volumes, Weekend Search Trends
Leave a Reply