Good Advice from Google – Retail Tips on Seasonality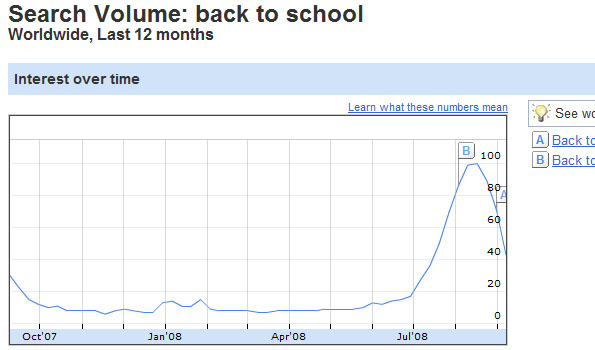 Google's retail insights team made a great post here regarding taking advantage of the seasonal 'back to school' trends. I think they have done a fantastic job of going through the process of understanding the user behavior, what they are looking for and how to contextually target those users.
We mentioned this type of thinking a few days ago in 'Seasonality and search campaigns' and our Google hot trends post. We always recommend that clients take advantage of these opportunities, whether they are month long trends or single day bursts. It's just one way to stay ahead of your competition and get better value for your advertising dollar!
Think outside the square and try to expand into areas which aren't your primary focus audience by targeting these kinds of opportunities. Write creative that will appeal to the users looking within these kinds of secondary and topical search markets, never use your standard, generic creative.
Later this week as part of our search education series, we will go through some basic steps to help identify seasonal trends and how to leverage them.
Happy hunting!
Tags: Education, Paid Search, Retail Insights, Search Engine Marketing, Search ROI, Search Seasonality, Search Trends, SEM
Leave a Reply