How to Profit From All the Great, Original Content in Our Own Emails.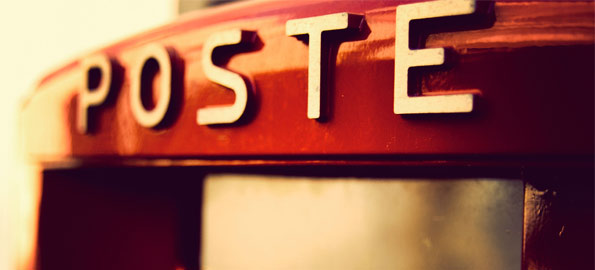 We write a lot of email. Although twitter, facebook status updates, and a multitude of other factors are endlessly conspiring to pull our attention away from our inboxes, the fact remains that plain old email is still where a lot 'content' is generated.
Of course this isn't web or blog content, but rather just business or personal emails we send back and forth. But can we ever use any of it as content for our sites?
Indeed we can.
The Value of Author's Letters.
I've been reading Norman Mailer's letters recently, and it occured to me that he made dozens of great points, observations, and arguments while writing to friends and editors. This is normal–we often say great stuff in our emails, too (probably not as great as his, but hey).
But it's not really publishable, per se—it's generally only great authors who get that privledge, and thank god, because reading through people's random emails would be an atrocious task.
But what about the few times we do write something truly memorable in an email? An anecdote, a product review, a recounted experience—we send a lot of these things to each other. I tell various stories in a ton of different contexts: flickr captions, google reader shared item comments, my photoblog, and in emails, too.
Many of the best things I've ever written are likely buried somewhere inside emails. If I were running a business, surely I'd have sent many good thoughts and observations on my business out to various friends and associates. Keep that part in mind while I tell you a story.
My Friend and his Duplicate Emails (He's Proud of Them).
I've got a friend who admitted to a strange practice: when he tells an anecdote that takes more than a few lines in an email, he'll often copy and paste the whole thing into other emails when someone asks about it.
After a few seconds of personalization, that second (or third, or fourth) recipient gets the great anecdote too.
Why not just make it into a blog, you might ask? Well, a blog changes things: it's automatically more public, and it has a frontend that requires more work than just firing off an email. This is changing, of course, but updating a blog still isn't really as easy—for most of us—as sending an email.
How to Keep Track of Your Finest Email Moments.
So let's say we want to keep track of our greatest e-mails, those moments of prosodic excellence where we've written something truly great and might want to see it again in the future, or perhaps even use it. Is there a way we can keep track of this stuff, and quickly and easily turn it into published content?
Tracking isn't much of an issue with something like GMail: just create a tag called "content" or whatever you'd like, and any time you notice you've written something that might be useful elsewhere, give it that tag. Every once in a while, go through your 'content' tag and see what you can find.
Getting All That Good Writing Online, Somehow.
So how do we get it online? Obviously we could just copy and paste it to our blog, but there's a new service that makes this even better: it's called Posterous. It's been catching on recently among a few high-profile bloggers, and its mission statement is simple: blogging through e-mail.
It's microblogging, much like tumblr offers (they too offer e-mail postings), but with a real focus on posting from your inbox as the primary way of getting content online.
A Practical Way to Make This Work for You.
Let's pretend you're running a blog and company website that promotes your independent printing shop.
Every once in a while, you write a great email to a friend, extolling the glories of letterpress, or talking about a new printer you just brought in, or talking about what a pleasure it was to finish a particular job.

As you know, getting interesting content (you don't send deadly-boring emails, do you?) like that online is invaluable for several reasons:
it keeps potential customers on your site,
makes your business far easier to optimize for search engines,
and increases the chances that other people around the web might enjoy something you write and link to it, thereby greatly increasing your traffic—and potential sales.
So try this out: setup a quick blog on Posterous. They've just taken the extra step of not requiring even a sign-up in order to create an account—you can just email their [email protected] address directly and within a few seconds you'll have a subdomain and an account.
Then, every time you write something good in an email, take a few extra seconds to forward that to the posterous email address. You'll already be in your e-mail client, so there won't be much of a time commitment to speak of.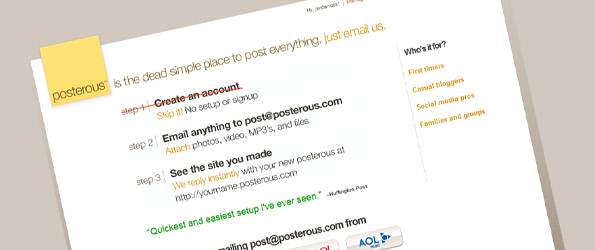 Then, just feed the posterous RSS into your main blog (you can do this through posterous or—likely—through your blogging platform too), and you've instantly got another way to add content to your site directly from your inbox.
If this Posterous Idea Makes Things Too Complicated, Not to Worry.
I didn't want this article to sound like an ad for Posterous—we're not affiliated in any way. But I like the site.
And I was just using it as an example of how simplified blogging tools are getting. What's really important to take away from this article is this: if you are at all a writer, if your emails occasionally contain great bits of information about your business, life, or anything that might serve you well if published online, take advantage of it! Don't just let that content be for one person—edit it a bit and put it to work for you.
Tags: blog posting, blogging, content, emails, gmail, google mail, posterous, writing
Leave a Reply