An Open letter to Matt Cutts & the Google Web Spam Team
Dear Matt (& Crew)!
No doubt, you're a busy guy & getting your attention was always going to be an uphill battle, so we thought we would write you an Open Letter, on behalf of our small, but very-lovable clientbase.
You see, we are avid readers of your blog though our clients have questions. A lot of questions. And as their agency, it's clearly our role to ensure we're delivering the most accurate and honest responses we can to any SEO queries they may have.
As a result, we thought we would write you and your team a short (8?) FAQ, in hopes that you may take the time to respond publicly so as to not only help LoveClients better manage their clients' expectations, and hence provide value to its customers, but also educate the greater Search Marketing industry as a whole.
So without further ado, your attention to the following would be appreciated by many:
1. What is Google doing to catch the Link Buying cheaters?
Background: A frequent query from our clients, is often "should we just buy links?" As an ethical agency, we consistently outline that they would be far better served spending their budget on producing better content, or better value in their niche, so as to attract real, contextually relevant backlinks as opposed to trying to cheat their way to the top. However, that is a pretty hard discussion to have with a client, when they can open Google.com and type in "buy quality backlinks" and see that Google allows advertisers to blatantly market backlinks for sale via AdWords?  Isn't that like the New York Times writing a front page article denouncing the consumption of Alcohol, but selling a Page #2 AD to Johnnie Walker?


Matt's Answer: (To be updated, should he be so kind to reply)
2. Is the Google +1 button now a signal to improve search quality? And what about when you star a result while logged in?
Background: When discussing the new Google +1 button you mentioned: "The primary benefit is that search gets better. It gets better in the user interface immediately, and we'll look at it as a potential signal to improve search quality as well." Could you confirm if it is indeed a signal? And if so, we must wonder if +1 has a safe guard to prevent abuse of the tactic?
Matt's Answer: (To be updated, should he be so kind to reply)
3. Does "Time" based relevancy exist?
Background: In the real world, if you were to ask someone what the "Best Restaurant in Chicago" was in 2003, clearly the answer would be different than if you ask the same question today. Time as a factor of relevancy, would dictate that results would change based on 'when' backlinks are created. By way of example, SITE-A receives a lot of coverage, and hence backlinks, in 2003, but since then has hardly received much of a mention, and SITE-B is the new kid on the block, and is now receiving a lot of Social mentions and backlinks, even though it has far less page authority than SITE A. Is it fair to assume that the 'timeliness' of backlinks count, and that a flurry of activity may signal more current relevancy?
Matt's Answer: (To be updated, should he be so kind to reply)
4. Does placing a backlink on an existing HIGH PR homepage, that hasn't changed in years, raise a negative signal?
Background: Google now has the ability to essentially crawl the web at warp speed, caching versions of websites.  Let's say that for the last 3 years, Google crawled domainX.com once a week, and the content on that page has not changed at all. Then all of a sudden, one sunny afternoon, the owner of domainX.com decides to sell a link to the owner of domainY.com, and sometime thereafter the Google bot crawls domainX.com to find that the 'only' thing that has changed in the last 3 years is a new, keyword-laden, outgoing link to domainY.com. Does that not look somewhat suspicious?
Matt's Answer: (To be updated, should he be so kind to reply)
5. Is it possible to 'harm' rankings, by link building poorly? And if so, what is in place to stop less-than-ethical competitors from using bad link building tactics to outrank our site?
Background: We have taken the time to read your previous response to this very question, though something a wonderful client of ours mentioned just this week (thanks James, from ComeToCapetown.com) got us thinking. I guess we're looking for a definitive answer mainly due to your response in the video below. You mention that Google may add the capability to report poor links in the Webmaster Tools Console. Does that then confirm, that it is somewhat possible for unethical competitors to take advantage of poor link building?

Matt's Answer:(To be updated, should he be so kind to reply)
6.  Is Google doing anything to determine what the 'actual' best restaurant in Vancouver is? Or the best Dentist in New York?
Background: LoveClients has built a business off of the ability to help clients build more relevant websites with more valuable content and hence garner authority in their niche. However, as a searcher, if I'm looking for the best dentist in New York, doesn't it seem a tad crazy to rely on the popularity of a website based on back links and on page content alone, to determine which site I land on? The 'PageRank' method is so far away from the real world, that it somewhat makes Google irrelevant.
As a real world example, LoveClients.com ranks at the top of Page #1 for "Top SEO Agency" and yet, truth be told, we're far from the world's "TOP" SEO Agency (though, we're not complaining). In reality, we're a small company, giving it our absolute best; compared to some of the bigger players, we're nobodies. How is that justifiably a fair result for searchers?"
Matt's Answer: (To be updated, should he be so kind to reply)
7. Does the CTR of a Search Result effect its future rankings?
Background: Google clearly states that Meta Descriptions are not a ranking factor, and are not used in any of the signals. However, a cleverly crafted meta description (and Title Tag) can make a huge difference to site traffic once a website is ranked high in the engines. Does Google monitor CTR of individual search results? And if one specific result is clicked often enough by individual surfers, is it deemed as a more relevant result?
Matt's Answer: (To be updated, should he be so kind to reply)
8. Does Google use the the 'Hours of Operation' feature in Google Places, to effect the Mobile search results and Places listings?
Many of our clients notice that the Google Places listings change quite often, noticeably more often than organic results.
The proliferation of mobile devices provide searchers with instant access to business information on the go, whether it's a local restaurant near your hotel or a dry cleaning business in your local area – consumers using their mobile devices to search for relevant business information are ready to make a call, and have a very high level of commercial intent.
However, if it is 8pm on a Sunday and a consumer decides to search for: "Dry Cleaner in New York"  from a mobile device, isn't it more relevant to feature a Dry Cleaner that is "still open", higher in the search mobile results, than a Dry Cleaner with simply more reviews and a better places presence? Is Google taking the operating hours, and time that the search is executed into account?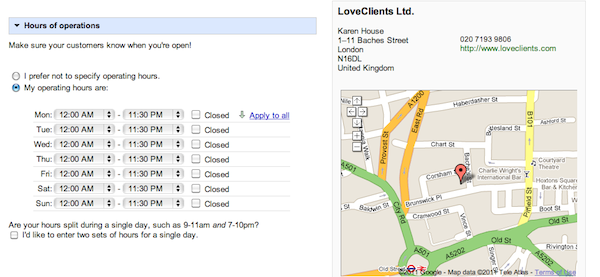 Matt's Answer: (To be updated, should he be so kind to reply)
In closing:
We're sure you have much better things to do than reply to our clients' queries, though you do seem like the type of guy that we would love to crack a cold Beer with – so should you ever be in London, Vancouver, or Melbourne, do drop in to one of our offices, and we'll repay the favor!
Cheers,
The Crew @ LoveClients
Leave a Reply