New Google Search Interface. Opinions Are Mixed And There Are Questions.
Earlier this month Google initiated bucket tests on a new search result interface. The new page is arguably more aesthetically pleasing and features more white space between results. Headings are no longer underlined and in some versions of the new interface results are separated by dotted lines while, in others, the white space alone serves to separate results. The colors are less saturated which perhaps makes them slightly less legible.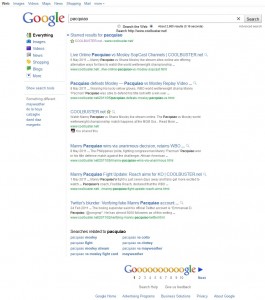 There has been a good deal of talk about whether this new layout is more attractive. These sort of subjective threads invariably go off the rails; designers and bloggers enjoy tilting at each other with wild abandon. Personally (note the use of that qualifier) I like the look of the new results though I would perhaps increase the color saturation on the text.
What is not in dispute, for there is no disputing it, is that there are less results per page. Many of the more vocal opponents to the new interface have argued, and not unreasonably, that a search result interface should be primarily concerned with information rather than aesthetics. It is worth noting that the extra white space is, in all likelihood, not for wholly aesthetic reasons and has almost certainly been informed by Google's up coming +1 rollout, leaving room for their new social search layer.
What I have not seen in any of the discussions is the potential shift in the AdWords landscape. It seems that in the bucket tests there are no ads running, simply pure organic results. This is not in and of itself unusual and often Google does not include ads in experimental environments. Advertisers after all are paying for performance and placement in a known environment.
The question that springs to mind though is this: in a page featuring less results you either have fewer sponsored results per page or a higher ratio of sponsored to natural results. Either way it changes the dimensions of the playing field perhaps dramatically.
I for one am curious as to how that might play out.
Leave a Reply