I'm sorry Mr. Zuckerberg, but the ad opportunities on Facebook SUCKerberg
OK that title was a cheapshot. Though we have come to learn, that the secret to generating an ROI on Facebook ADS, is simply to NOT advertise. Allow me to explain:
One of the benefits of running an SEO / PPC Management firm, is the access and insight we gain from managing our client campaigns. We get to test A LOT of campaigns. Whether it be within Adwords, Yahoo, Bing, AdBrite, Miva, 7Search or LinkedIn and Facebook. We test 'everything', on all networks.
To add, we consider ourselves pretty well versed when it comes to running PPC / Paid Placement campaigns. I mean, that's what we do right? Given the experience our collective team has, and the number of campaigns we manage on a daily basis, you would think that an experienced, hard working team could make a campaign work on the largest social network on the planet. Unfortunately, not so.
The truth is : Facebook Ads, and the cost of paid social traffic, has such a low conversion rate that regardless of what we or any of the partner agencies we work with have tried, the overall CPA (Cost per Acquisition) is abysmal at best.
On average (across over 400 campaigns), we have found that an advertiser needs at least 10x as many clicks, to acquire a lead or sale. The problem however is that the click costs are not 10x less expensive.
Here are some of the reasons why we think this may be the case:
Targeting is So off target
If you have ever visited the LoveClients website, you will notice that our entire conversion funnel is focused on "chatting" with customers prior to signup. Given that the agency is open 24×7-365, there is always someone here to man the chat.
Now, if you have ever used live chat software, you will note that they almost always incorporate live visitor monitoring, allowing the operator to track precisely which geographic location, the visitor was referred from, here is what we see when using our live chat application (Blurred client names for privacy reasons):

So, when placing Facebook ADS, with the following targeting, why do we seem to attract visitors from Sweden, Italy, Japan and Australia:
- who live in one of the countries: United States, Canada or United Kingdom
- age exactly 23 and older
- who like advertising, advertising executive, business owner, entrepreneur, entrepreneurship, independent business owner, lawyer, marketing, marketing manager, marketing sales, sales, search engine marketing, search engine optimization, seo, small business, website design, website developer or women owned business
- who speak English (UK) or English (US)
Screenshot from within Facebook Ads: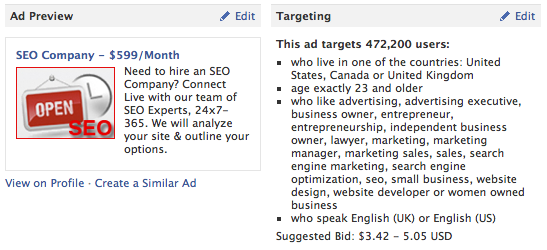 Facebook Ads are Interruptive
With a search campaign, if you target your audience, keywords and Ad Creative correctly, then there is a very high chance, that the visitor is specifically seeking information about the product or service the advertiser offers. Though with a Facebook AD campaign, the only real targeting is by demographics, it is interruptive advertising.
Search Marketing is a solution finder, Facebook Marketing is not.
ADS really do not belong in a social environment
In the real world, nobody likes to be sold to. Especially not from your friends, or in the middle of a social activity. By its very nature, Facebook has become a virtual social outlet, what we like to refer to as the 'procrastinator'. Admit it, we all spend A LOT of time looking up our ex girlfriends/boyfriends on 'The Book'. The issue however, is whether you are really in the mindset to buy a new phone, book a trip, or order flowers in the middle of perusing through photos of what your work colleague just had for lunch.
Regional Targeting is all wrong
Working in a global agency like LoveClients, I travel between 4 continents on a quarterly basis, rarely do I spend more than 30 days in one place, and seldom do I get the chance to get back home to visit friends and family. Home, being Australia.
To add, I haven't lived in Australia for over 6 years, though that is where I set up my Facebook account. My country and city are set to the UK in the settings, though I continue to see ads like the one on the left. Why am I exposed to Hyundai Australia ads?

I do not live in Australia, nothing on my settings states I live in Australia, so why would I be seeing Australian ADs constantly? Surely the ad planners at Hyundai couldn't be that silly to target an AU based campaign to a global audience. This adds fuel to the point I made above, we attract visitors from the wrong regions even when we explicitly specify them in the Facebook AD panel.
What my friends/family like, isn't really what I like?
Most of the people on my facebook are old friends from back home, the occasional acquaintance I meet in my perpetual travels, and an ex boyfriend or two.
The only thing we really have in common now days is the location where I grew up, but not much else. I mean, do we really still have things in common with a kid you shared lunch with in the 3rd grade?
As adults we inevitably grow apart, partake in activities and interests that are more suited to our individual likes and dislikes. So just because my friend Harold whom I haven't spoken to since 1991 likes Dear Pringles, I cannot fit my hand inside your tube of deliciousness, I'm not sure that really translates so much to me wanting to purchase pringles anytime soon. (Am I the only one who despises the smell of pringles?).
Facebook needs to completely up their game if they intend to compete with the likes of Google or Microsoft for share of local Ad Spend. SEO Agencies like LoveClients are the gatekeepers for a lot of their potential clients, but if the relationship-gatekeepers can't make campaigns profitable; we can't continue to recommend that our clients spend on the platform.
Leave a Reply